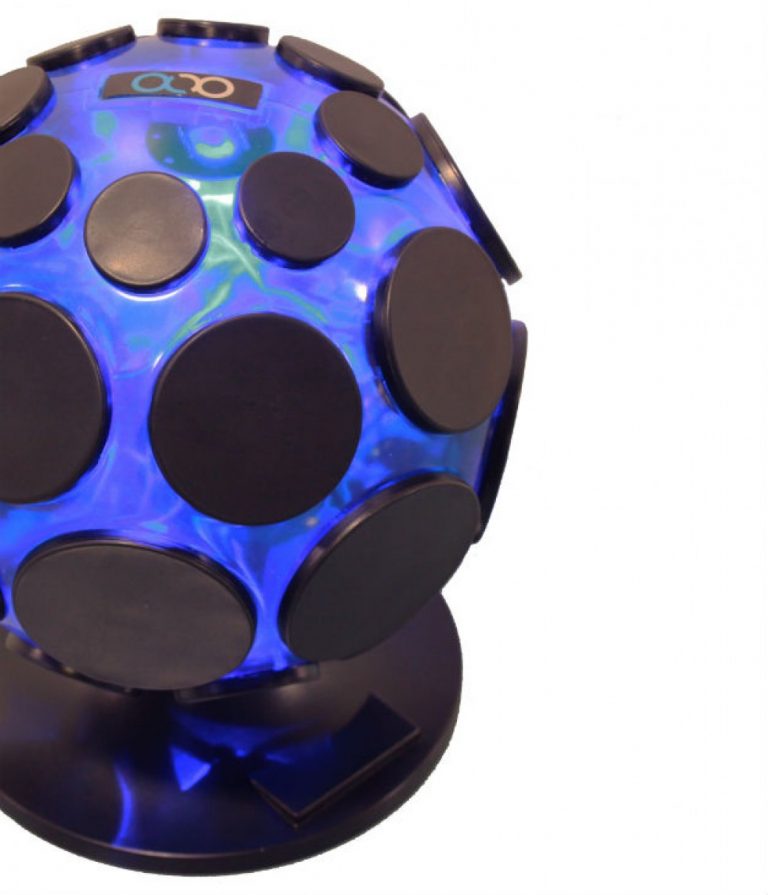 A new way to make music
The AlphaSphere me allows anyone to be a musician. Through a series of 32 tactile pads any conceivable sound can be mapped around the sphere.
Play any musical style
The AlphaSphere me can be mapped to play contemporary or classical music, it can control musical notes, recorded samples or loops; so anything is possible.
Works with any computer
The device connects to your computer and can be programmed with the bundled software AlphaLive, and by connecting to software such as Garage Band or Ableton.
Create, learn, enjoy
Use the 'sphere to access your inner musician, without playing a wrong note; use it to unlock musical concepts through an intuitive user interface that teaches you as you go.
32 tactile pressure and velocity sensitive pads
Ergonomic spherical design
Hexagonal lattice pad layout, allowing for a series of notational arrangements
Responsive and configurable LED lighting
USB 2.0 connectivity and bus powered
Fully compatible with any MIDI software
Dimensions: 22.7cm(W) x 22.7cm(D) x 26.5cm(H)
Weighs approximately 2kg
Custom software allows the device to be programmed to a highly customised level
Use as the devices MIDI mapping editor
Use to trigger, loop, and manipulate audio samples
Use to record and manipulate MIDI and audio step sequences
Convert pad data to OSC (Open Sound Control) messages
Comes with a 1GB library of audio loops and hits compiled by popular sample library companies
Program pads individually or by custom groups
Store up to 20 'scenes' of pad settings within a single project
Open-source under the GNU General Public Licence v2.
Runs on both Mac OS X (10.5 and above) and Windows (XP SP3 and above)
Supports Core Audio, ASIO, WASAPI and DirectSound
Each pad can can act as a key/trigger-pad or a fader/dial/mod-wheel/pitch-wheel, or both simultaneously
Map preset notational scales or layouts to the pads, or set notes to pads individually
Compatible with polyphonic aftertouch
Set the pressure of each pad to send polyphonic aftertouch, channel aftertouch, mod wheel, pitchbend, or a CC message
Supports multichannel MIDI, allowing multiple instruments to be played at the same time
MIDI Dynamic Channel Mode – allows individual MIDI channels to be dynamically applied to each pressed MIDI pad, allowing for polyphonic pitch-bend as well as completely polyphonic modulation of notes within software that doesn't support poly after touch.