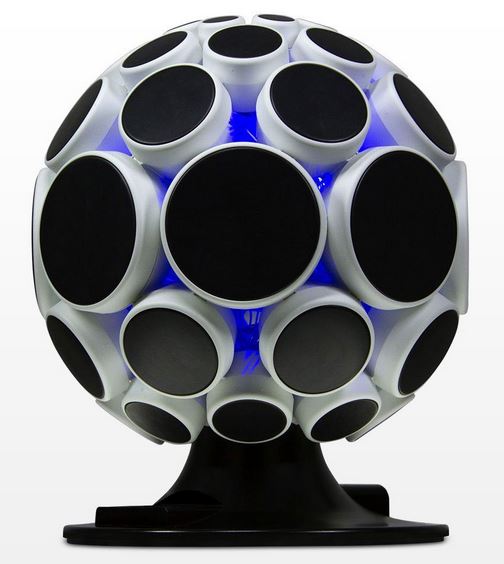 AlphaSphere nexus series.
An expressive electronic musical instrument
The interaction design of the 48 tactile pads allows sound to be triggered and manipulated with subtlety. Each pad is pressure and velocity sensitive and fully compatible with MIDI polyphonic aftertouch.
Open to a myriad of musical styles
Designed with musicality in mind, a series of logical notational arrangements can be mapped around the spherical hexagonal lattice form, representing a departure from linear musical convention.
Compatible with music production software
The AlphaSphere is MIDI compatible, so you can use it in conjunction with all existing music production software. It is also OSC compatible and can be enabled as a controller for lighting and visual applications.
Compose, produce, perform
Explore the playing surface in combination with the accompanying software AlphaLive to unlock new musical ideas and your create own perfect ergonomic instrument. Enhance your musicianship.
48 tactile pressure and velocity* sensitive pads
Ergonomic and spherical modular design
Hexagonal lattice pad layout, allowing for a series of notational arrangements
Responsive and configurable LED lighting
USB 2.0 connectivity and bus powered
Fully compatible with any MIDI software
Dimensions: 26cm(W) x 26cm(D) x 32cm(H)
Weighs approximately 3kg
*8 smallest pads are pressure sensitive only.
Custom software allows the device to be programmed to a highly customised level
Use as the devices MIDI mapping editor
Use to trigger, loop, and manipulate audio samples
Use to record and manipulate MIDI and audio step sequences
Convert pad data to OSC (Open Sound Control) messages
Comes with a 1GB library of audio loops and hits compiled by popular sample library companies
Program pads individually or by custom groups
Store up to 20 'scenes' of pad settings within a single project
Open-source under the GNU General Public Licence v2.
Runs on both Mac OS X (10.5 and above) and Windows (XP SP3 and above)
Supports Core Audio, ASIO, WASAPI and DirectSound
1 x AlphaSphere
1 x USB cable
1 x AlphaLive installation disc
1 x replacement pads ( pack of 5)