Building an office can get expensive, with the average spending for a medium-sized establishment racking up at $45,000 a year. Fortunately, there are several strategies you can employ to save money when building an office.
Here are some strategies to save money when building an office:
Use Value Engineering
Go over your budget and see which aspects of the projects you've underestimated and change. These can be as simple as changing materials from expensive architect recommendations to a cheaper alternative that provides the same benefit. Or it can be a more complex change, such as adding Barnwood ceiling beams and posts to give a better foundation for a rustic interior or exterior office design.
Doing this helps you decide which parts of the project can be removed or scaled back and what aspects should proceed as you initially planned. After identifying these, implement these changes to prevent any further delay.
Sign for Flexible Contracts
When building an office, always take flexible contracts, not long-term leases. That's because nowadays, there are plenty of companies out there who are renting out spare spaces in their offices monthly. This way, you don't need to think about setting up the infrastructure since everything's plug and play — saving you money over time.
Additionally, signing for flexible contracts allow you to change your office space as your company grows and scale it down when things don't go your way.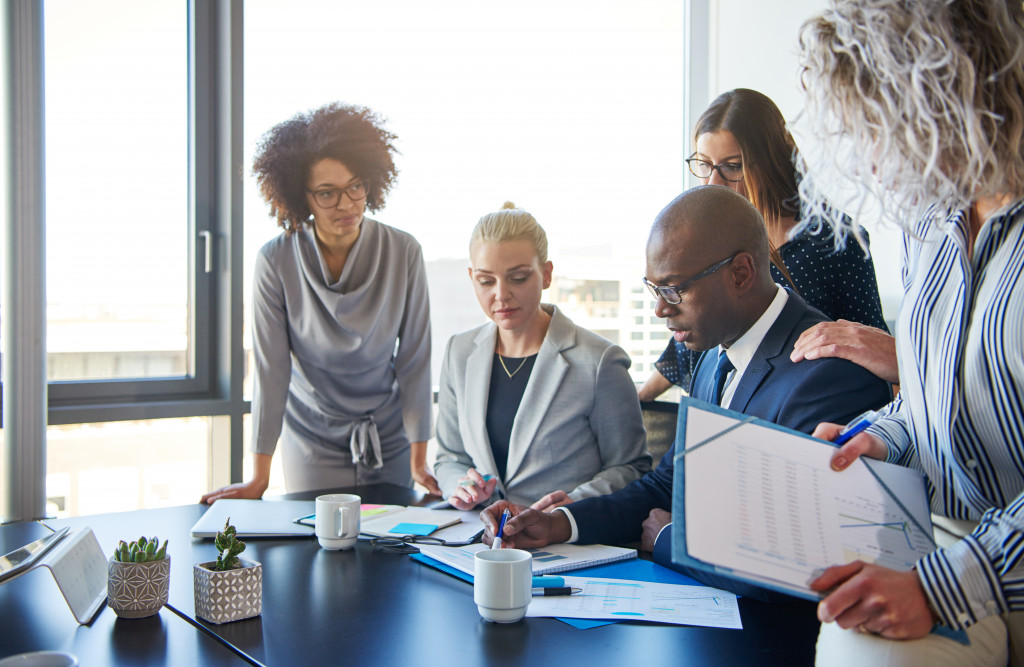 Hire a Project Manager
Hiring a project manager is one of the best ways to save you money when building an office. If you hire one at the start, when you're picking between sites, they can streamline the process by evaluating various choices by comparing them on an apples-to-apples basis. Besides that, these professionals can help by providing you with space plan diagrams, test fitting drawings, and providing estimated timelines, allowing you to know how much everything will cost you and how long the process will take.
Additionally, project managers will continue to offer great value after your employees have moved into the office. From providing tips of the trade to solving any issues during the project's construction, their expertise will be invaluable to you and your team. Overall, hiring a project manager can help you optimize budgets, maintain quality, stay on schedule, and achieve your goals — all while saving you money and getting the most out of your money.
Share Your Office
You can save a lot on office space expenses by sharing the actual office. It's becoming a common practice among small businesses and large corporations alike. After all, we are at the advent of a sharing economy. You can charge people for access to your office space, and with this, you can save money by earning from the side to offset your own cost. Also, besides saving money, you get many benefits from sharing an office.
These benefits include allowing you and your team to meet a whole community of new people that'll help provide a fresh perspective in your business — energizing the overall business environment.
Have Some Employees Work Remotely
This strategy is where your business's core team is in the physical office, where your clients and investors can get to them fast, and then you have the rest of your employees working remotely. It's a sales function or marketing function, where you only need to place your core team member upfront to save money.
It can help cut back on your expenses by requiring you to only pay for the premium space but only take a bit of it in the beginning so you can get the cheap space for all your staff that isn't location-sensitive nor customer-facing.
Recycle Office Furniture
An excellent way to save money when building an office is recycling furniture. All it takes is an empty building, imagination, and a bit of a hustle to find recyclable furniture. And with minimal planning, you can refurbish, deconstruct, and reuse old furniture. The best part is that recycled office furniture is much cheaper than buying new furniture.
Not only is recycling office furniture good for your finances, but it's also good for the environment and your reputation as it shows that your business is serious about conserving and reducing waste.
Most entrepreneurs aspire to have an office filled with the latest technology and general state-of-the-art facilities. Although you can't achieve this straight away, following the ideas mentioned can help you get started. They can help you build your very own office space without breaking the bank. You'll have an efficient headquarters in no time.