Whether it's for providing your services or transporting employees, having reliable cars is essential for the success of any business. Unfortunately, vehicles don't come with a maintenance manual, so you have to research and find out what's needed to keep them running smoothly. To save you time and effort, here are some essential services worth partnering with when it comes to maintaining your company cars.
Oil Changes
This one might seem obvious, but you would be surprised how many car owners neglect regular oil changes. Neglecting this service can lead to costly engine damage down the road.
You should get an oil change at least every three months or 3,000 miles, whichever comes first. Because of how essential oil changes are, partnering with a professional auto shop that can handle all your oil changes quickly and efficiently is worth partnering with.
A standard oil change would include draining the oil, replacing it with fresh oil, and adding a new filter. Additional services may also be recommended, such as fuel system cleaning or transmission flush.
Detailing Services
If you want to keep your company cars looking good, then expert detailing services should be on your list. Regular detailing will help maintain the car's paint job and make sure there are no scratches or dents that could lead to rust.
Detailing services can vary significantly in cost depending on what you need. Basic services include a thorough wash and wax, but if you want to go the extra mile, then you can opt for more extensive services such as paint protection or interior detailing.
Paint protection usually involves applying a special protective coating to the car's exterior, while interior detailing includes vacuuming and cleaning all surfaces.
Tire Service
Tires are often overlooked when it comes to car maintenance, but they are actually very important because they affect the safety of your vehicle as well as its performance. The two most common tire services that should be performed regularly include rotation and alignment.
Rotating tires helps ensure even wear over time, and alignment helps improve handling and fuel efficiency. When choosing a tire service provider, make sure they have experience with commercial vehicles as well as the right equipment for the job.
This is because commercial vehicles often have different tire requirements than standard cars. Also, keep in mind that some providers may offer additional services such as tire balancing and patching, so be sure to ask about those too.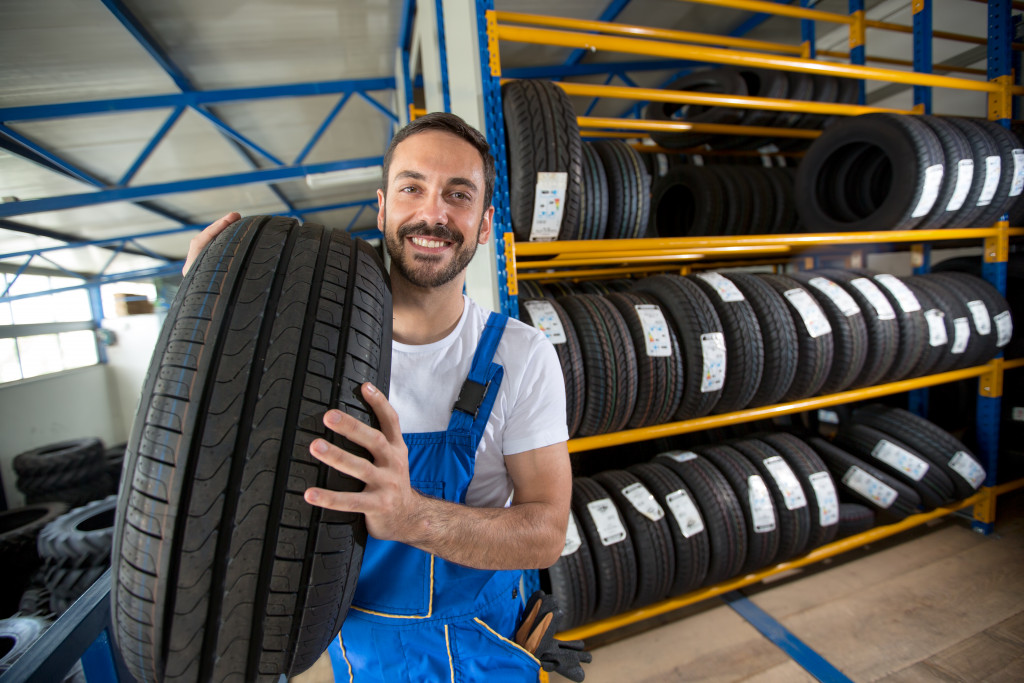 Windshield Repair & Replacement
Your windshield is an essential safety feature so if there is any damage—no matter how small—it should be professionally repaired or replaced right away. This will help protect the occupants of the vehicle and reduce liability risks associated with driving a damaged car on public roads.
When looking for a partner in this area, make sure they use high-quality materials and have certified technicians available 24/7 in case of an emergency situation. For instance, some providers may offer repair services for minor chips and cracks, while others will be able to provide total windshield replacements.
Moreover, some providers may even offer additional services such as window tinting or power window repair. Make sure to research and find the best fit for your company.
Brake Service
Brakes should always be inspected by professionals at least once per year or at 12,000 miles (whichever comes first) to make sure they are functioning correctly. This service involves more than just checking brake pads — technicians need to inspect calipers, drums, rotors, and other related parts, which require specialized tools in order to do correctly.
Make sure whoever you partner with has experience working on commercial vehicles and is able to offer competitive rates without compromising quality or safety standards.
For example, some providers may offer discounts for multiple vehicles or same-day services, so shop around and find the best option for your company.
Emission Testing & Repair
If you operate in an area where emissions testing is mandatory, then partnering up with a local auto repair shop that specializes in emissions testing and repair can help save time, money, and hassle.
Make sure your chosen partners use genuine parts and components when performing repairs and tests, as this will ensure optimal results. Additionally, look for providers who offer online booking so that you can easily schedule appointments when it's convenient for your business.
It's also crucial that your chosen providers meet the standards and guidelines issued by local authorities, as this will help ensure your vehicles comply with all applicable regulations.
Regularly maintaining company cars is essential for ensuring optimal performance and safety on the road. You want reliable, experienced, knowledgeable, and cost-effective partners when it comes to keeping your vehicles running smoothly. By partnering up with the services listed above, you will have peace of mind knowing that your company cars are being taken care of by professionals who understand their importance.