As a business owner, you have a lot of responsibilities. With the rise of digital marketing platforms, there are more ways than ever to get your message out there. However, with all the different platforms at your disposal, it can be hard to keep up with what needs updating and when. In this blog post, you'll learn about the key marketing platforms you should update now to get the most out of your digital presence:
Facebook Page
Your Facebook page is an important marketing platform that needs regular updates to stay relevant and engaging for followers. Keep up with changes in Facebook algorithms by creating engaging content that encourages discussion among followers—this can include Q&A sessions or polls and sharing industry news or company updates. Additionally, consider boosting posts if they're not getting enough organic engagement to reach a wider audience.
Twitter Account
Twitter can be a great way to reach out to potential customers and build relationships with them over time. Try to post consistently (at least once a day) but make sure each tweet has something valuable for followers—whether it's interesting industry news or an exclusive discount code for followers only! And use hashtags wisely. They can help you target specific audiences who might be interested in what you offer.
Instagram Account
Instagram is great for showcasing visuals around your product or service. To ensure your Instagram page stays relevant and engaging, post consistently about your product or service. And because Instagram is all about visuals, you must ensure you post the best images and videos. For this, you should consider employing the help of a professional photographer or videographer. They will help you create quality images that will resonate with your audience.
Additionally, use captions effectively, as this gives viewers more insight into what you're posting about and provides an opportunity for further engagement with followers through comments or questions about what you've posted. Finally, use relevant hashtags so that people searching for topics related to yours may find your account easily!
YouTube Channel
Having a YouTube channel presents another opportunity for engagement with potential customers and providing helpful tutorials related to your product/service. Post videos regularly (at least once a week) but ensure they're high quality—no one wants to watch grainy footage! Additionally, make sure titles are descriptive yet concise, as this helps viewers find exactly what they need quickly while also optimizing SEO rankings in YouTube searches!
Website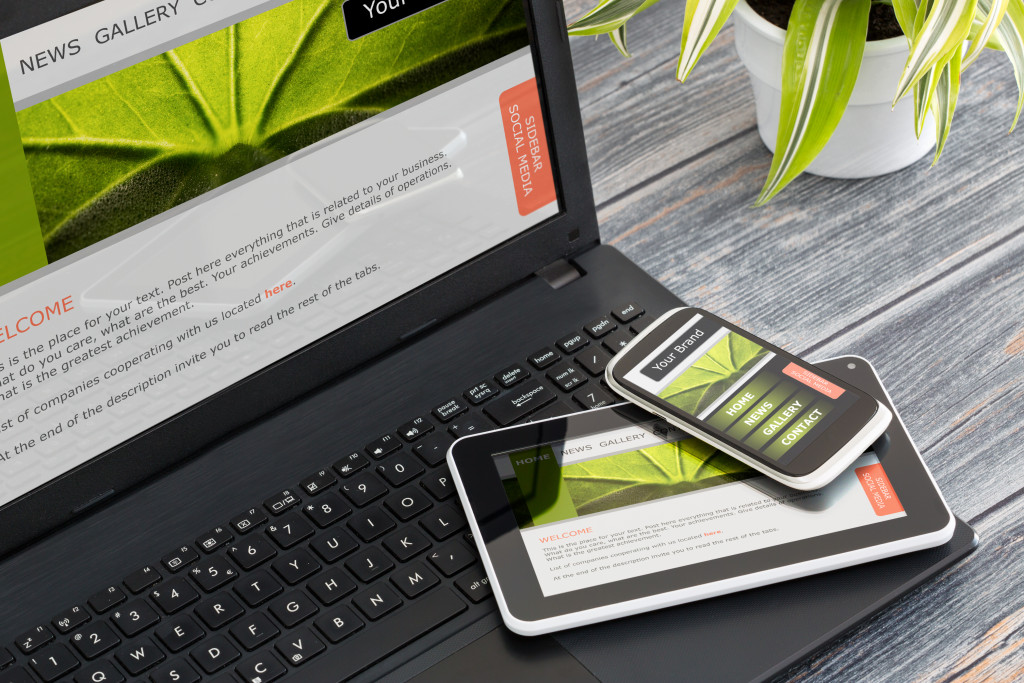 Your website is one of the most important marketing platforms you have. It's usually the first impression that potential clients will have of your company, so it's essential that it looks professional and is up-to-date. Ensure any outdated information is removed and any new products or services are included prominently on the homepage. Additionally, ensure all links are working properly and that contact information is easily accessible from every page. And don't forget about mobile optimization—many people access websites through their phones, so make sure your site looks good on desktop and mobile devices.
You should also consider updating your website to go headless if it isn't yet. A headless website allows you to manage your online content through a single, centralized platform, making it much easier to stay on top of updates and keep everything looking fresh and relevant. For this, you should employ the help of a professional headless development team. They can help ensure your headless website is built from the ground up with all the latest features and functionality. They'll also be able to help you design and implement a great content strategy that keeps your site fresh, engaging, and effective for years to come.
LinkedIn Page
Your LinkedIn page should serve as a professional extension of your business. Make sure to keep it updated regularly with company news, updates on products or services, and any jobs you have available at the moment.
Additionally, consider posting engaging content that encourages discussion among followers (for example, industry trends or industry-relevant news stories). Additionally, consider running targeted ads to help get your content in front of a larger audience. The key here is to keep your LinkedIn page current and professional to reflect well on your business.
Staying on top of all these different platforms can seem daunting, but if done right, it can significantly increase customer engagement which leads directly to increased sales and profits! That being said, don't feel like you need to tackle everything at once—start small by focusing on one platform and gradually expand from there until all are taken care of! Consistency is key here—ensure each platform gets updated regularly so potential customers know that your business is active online, which will help build trust between them and your brand over time.