The COVID-19 crisis has posed a major threat to the health and life of people. But according to the World Health Organization (WHO), older people and those with underlying health conditions are the most vulnerable. When exposed to the novel coronavirus, their health can quickly and easily deteriorate. If left unattended, it can lead to sudden death.
If you have seniors to take care of, it is imperative to find appropriate healthcare solutions. Your goal is to protect their health and save their lives amidst the global health crisis. You can either take care of them yourself or seek help from health professionals.
That said, here are healthcare solutions for your seniors:
1. Keep your elderly care at home
Taking care of your elderly is a serious responsibility. This is especially true if your loved ones are old enough and have underlying health conditions. When they are staying with you, you must be as hands-on as possible. As such, do what it takes to protect their health and keep your living space COVID-19-free.
In fact, Forbes recommends that you keep elderly care at home whenever possible. That way, you can stay on top of their health monitoring, medication intake, food consumption, insurance benefits, and other health-related matters. Ultimately, it's best to take care of your elderly loved one in the comfort of your home.
2. Stay connected with your elderly loved one
In some instances, many healthy and physically abled seniors are living on their own. But the COVID-19 pandemic can pose a lot of challenges to the elderly. Since the COVID-19 outbreak in March of last year, the seniors must stay home. They must not be exposed to the various strains of the novel coronavirus.
If you are living apart from your older parents, it is imperative to stay connected with them regularly. Take the time to visit them to set health and safety measures in place. Also, offer to perform digital transactions for their medication dispense, groceries, laundry, and house cleaning. Lastly, communicate with them regularly to ease their fears and worries away.
3. Get home healthcare services for them
Another viable healthcare solution is to hire home healthcare services. Home health care has become the fastest-growing health industry during the pandemic. It makes sense to bring healthcare at home in the wake of the COVID-19 crisis.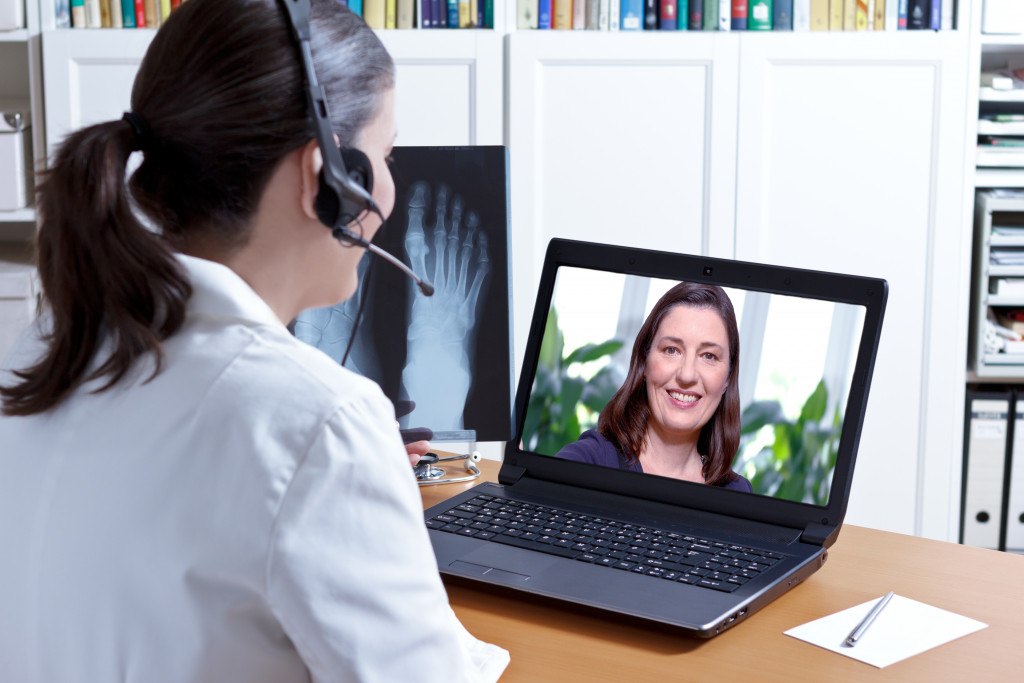 If you live away from your older parents, consider hiring home nurses or caregivers for their elderly care. These health professionals can provide medical treatments and nursing care. They also offer personalized care such as bathing, dressing, and feeding. Lastly, they provide home aide services such as food preparation, household maintenance, laundry, and groceries.
4. Entrust them to an assisted living facility
In some cases, seniors stay in a nursing home or an assisted living facility. This option is a viable solution for preoccupied individuals who cannot be hands-on with their older parents. It gives them the utmost peace of mind, knowing that trusted health professionals will care for their loved ones.
It's crucial to be highly critical in choosing the assisted living facility for your elderly parents. Be sure that their team of health professionals is highly reliable and trustworthy. Most importantly, ensure that the place is safe from the novel coronavirus.
In addition, be sure to consider the assisted living services offered. They must include safe accommodation, medical treatments, medication monitoring, ample food supply, personal care (bathing and dressing), and social interaction and recreation.
5. Keep them safe and comfortable in a hospice
A hospice is a facility for people with a severe illness approaching the end of life. People with incurable diseases receive a special kind of care, from medical treatments up to personal care. Keep in mind, however, that hospice care endeavors to offer compassionate care. The goal is to ensure that people will live fully and comfortably during the remaining days of their lives.
If your older loved ones stay in a health facility and receive hospice care, ensure that they receive the best care possible. Amidst the COVID-19 crisis, make sure that they remain safe and protected. No matter what happens, they deserve to live a quality life and have a dignified death.
Taking care of the seniors is paramount during the COVID-19 crisis. Be sure to consider some of the healthcare solutions recommended above—from keeping elderly care at home to seeking professional care from health experts. Ultimately, take good care of your senior loved ones as they deserve to live a quality life in their last few years.