A return to the office should be a conversation that needs to take up more space in the never-ending pandemic discourse. While remote work has been the norm since March, more companies and businesses still need to prepare the offices for employees' return, especially since a survey revealed that the majority of employees desire a combination of working from home and working from the office. At the same time, nothing beats collaborating in traditional and physical workspaces.
And since business owners have a legal responsibility to create a safe work environment thanks to the Occupational Safety and Health Act (OSHA), they need to take the lead in preparing the offices and workspaces for their employees' return. Here is a step-by-step guide for creating and maintaining a safe and healthy office, workspace, or store.
Coordinate with the landlord.
Talk to the owner or manager of the building about their health and safety measures in place. Ask if they're already taking and policies they're enforcing, and align your plans with theirs. Ask them about their plans for disinfecting and sanitizing. Establish expectations by clearly communicating what responsibilities you're willing to take on as a tenant, and what roles you're expecting the building managers to play to help you in your quest to prevent COVID-19 infections.
Communicate with your employees.
Not all of your employees will be amenable to going back to a traditional work setup. Find a way to know about their anxieties and worries and make sure to allay those concerns by assuring them that upper management is doing everything they can to keep COVID-19 infections at bay.
Plan a skeletal schedule.
A skeleton workforce means the minimum number of employees that are necessary for its operation. If you don't need your entire staff to be in the office every single day of the workweek, then consider going for a skeletal staff, at least until the rate of infections goes down. Coordinate with the managers and team leaders about what schedule will work best for specific teams and departments.
Discourage the following people from going to work, and encourage them to self-isolate for two weeks instead:
Those who are not feeling well or experiencing fever and other symptoms
Those who have interacted with and been exposed to COVID-19 positive patients
Those who are living with people who have tested positive for COVID-19
Check what kind of screenings you can impose.
Government requirements vary from state-to-state, so make sure to check what your state requires and prohibits in terms of disclosure of health conditions, checking of temperature, and other kinds of screening. Employers need to review what the CDC (Centers for Disease Control and Prevention) requires and recommends as well as other local, state, and federal government mandates.
Develop a social distancing plan.
It's out with the open floor space plan, and in with a traditional or closed floor plan. If your company can shoulder the costs, consider remodeling your office space to create room for proper social distancing and to allow for work stations to be enclosed. But if remodeling is impossible right now, make sure to separate the work stations with a distance of at least six feet, and constantly remind your employees to wear a mask and to avoid standing too close to people, especially when they're talking.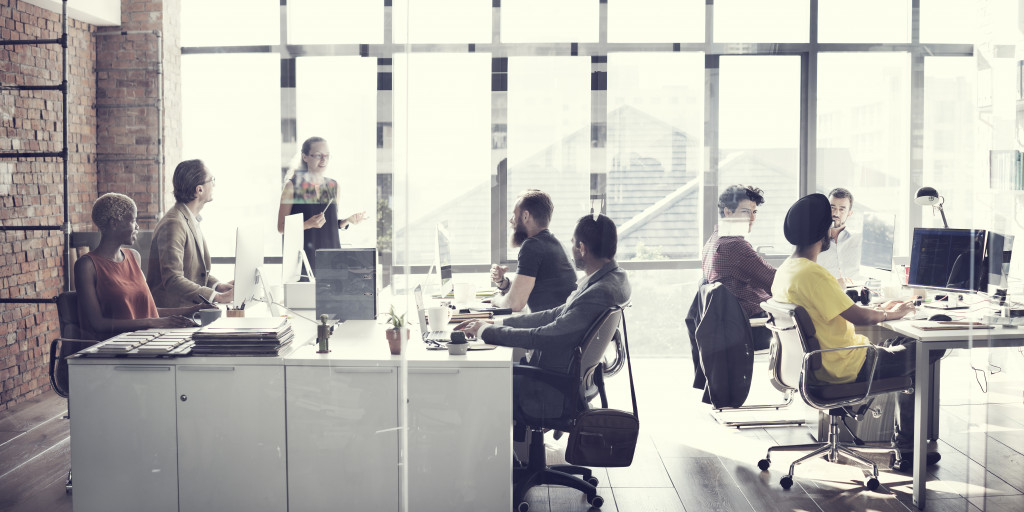 Reduce high-touch surfaces and update your cleaning methods.
Now more than ever, your offices need to be free from disease-causing viruses, especially since winter is fast approaching. More than just a regular dust-up, teach your maintenance employees how to disinfect and sanitize high-touch surfaces like doorknobs, biometric devices, countertops, and other common areas. Find products that can effectively get rid of viruses, germs, and bacteria. Pepper the office with alcohol-based sanitizers and disinfectant wipes that people can reach for at any time.
Maintain indoor air quality and good temperature.
Check if your HVAC system is up to scratch and that the filters and air ducts are as spotless as possible to prevent your employees from inhaling allergens and other harmful pathogens. Make sure that it's capable of maintaining good temperature all-year-round. Consider having a buffer vessel chilled water system installed to provide proper insulation and to keep energy costs low.
Encourage Trust and Confidence
Keep your communication lines open to maintain a level of transparency and accountability with your employees and other stakeholders. Listen to them about their concerns, and see where you can adjust to help keep their fears, and infections, at bay. The rules of the game may continue to change for the next few years, so stay on top of updates and guidelines from the CDC so you can adjust your company's guidelines and policies as well.