Competition among businesses has increased after the pandemic started over a year ago. The shift to online sales caught many businesses flatfooted, and they had to scramble to make their presence felt online.
Even as they started implementing digital marketing strategies, many businesses continue to struggle to increase their online presence. If you also find it challenging to reach your market online, you may benefit from the following practices that can increase the online presence of your business.
Make Sure the Website is Mobile-Friendly and Responsive
One thing that you need to do is to make sure the website of your business is responsive and mobile-friendly. With around 85 percent of Americans owning a smartphone, it's safe to say that you should make sure people can access your website using a mobile device. If customers cannot access the website using their mobile devices, they'll look for another business to meet their needs. So, making it mobile-friendly is essential to increase the appeal of your business to customers.
You should also work on making the website responsive. A responsive website allows it to load on any device, no matter its size. For instance, a website should look good when people view it on a laptop or computer. It should also load or adapt to a smaller screen, such as a smartphone or tablet. This means the website should also look good when people view it using a mobile device.
When your website is mobile-friendly and responsive, you can tap into a market that prefers using mobile devices when they purchase products online. It also increases your reach into the market, and with it, your online presence.
Work on the SEO of the Website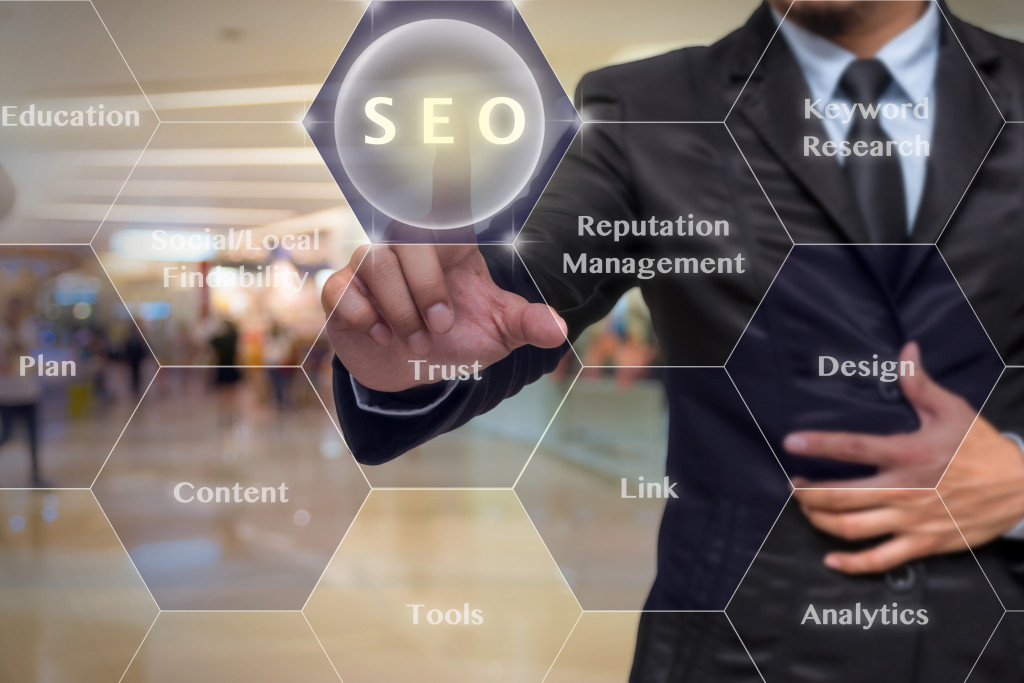 Aside from making your website user-friendly, you can also implement other strategies to make your website easy to find online. One of the best ways to increase the online presence of a business is to increase traffic through search engine optimization (SEO). SEO is a strategy that increases the chances of potential customers in finding the business's website by increasing its ranking on the search engine results pages (SERPs). You can do this by building a list of search terms that are related to the business.
After you build the list of search terms, you should implement both on-site and off-site SEO strategies. These strategies can increase the rank of your website on the SERPs. On-site SEO requires optimizing different elements of your website to bring in relevant traffic. It also allows the search engine to see the value your website gives to visitors.
On the other hand, off-site SEO requires increasing your website's trustworthiness, relevance, and popularity. In this instance, you need to build backlinks into the website and use social media marketing.
Analyze User Behavior
Monitoring the behavior of visitors to your website is also important. This allows you to make adjustments to enhance the website and increase the presence of your business online. The best way for you to implement this is to use Google Analytics. Google Analytics is an online tool that allows you to monitor online traffic to your website.
Created by Google, this tool also provides you with information about the performance of your website. It shows you how many visited the website, the links they clicked, and the duration of their visit.
The tool also gives you the bounce rate or the percentage of visitors who entered the site and left instead of exploring the website. This is important since it shows you the performance of your marketing strategies. The tool summarizes the information through reports that you can customize depending on your need. Using the information from the tool, you can make adjustments to increase the visibility of your website.
Create Fresh Content for the Website
One way for you to reduce the bounce rate of your website is to make it interesting for visitors. Therefore, you should create and publish fresh content regularly so visitors will have something to look forward to when they visit your website.
Providing different types of content also encourages visitors to explore the website. It can even urge visitors to purchase the products you are offering if your content is compelling and persuasive. When creating content, you should not limit yourself to text. You should also provide videos since they offer better retention and reduces the bounce rate. Relevant videos also increase interest in the products you offer in the market, increasing your sales.
Increasing the online presence of your business can be challenging. But if you put in the work, you'll increase your chances of expanding your reach into the market.