As business owners, we always aim for progress and growth. As your store or company grows, more people are needed to divide the labor and continue to handle the business. This is where hiring staff comes in. Before giving out the, "We're Hiring" fliers or saying "You're hired" to a promising interviewee, there are a few things that you should know.
1. Know what your company needs
Before hiring a new set of staff members, analyze first if the company needs more people. Check if the current employees can do the work because you might not need more staff. When the tasks at hand are too much for the current team to handle, that's when you welcome the idea of hiring.
2. Make a clear definition of the company 
Before starting the hiring process, create a few simple statements that define the company. These statements help direct the path during the hiring process. It will keep you focused on the essential things to keep note of when hiring people. The statements can include objectives, vision, mission, and goal of your company or store.
3. Clearly define the position 
After creating the defining statements of your business, define the job position you'll be finding people to work for. This includes the job description, as well as the responsibilities and benefits. It is also essential that you have the number of working hours the position demands and possible expectations. As much as possible, you need to define every little detail about the position to ensure that you'll be able to find the right employee for it.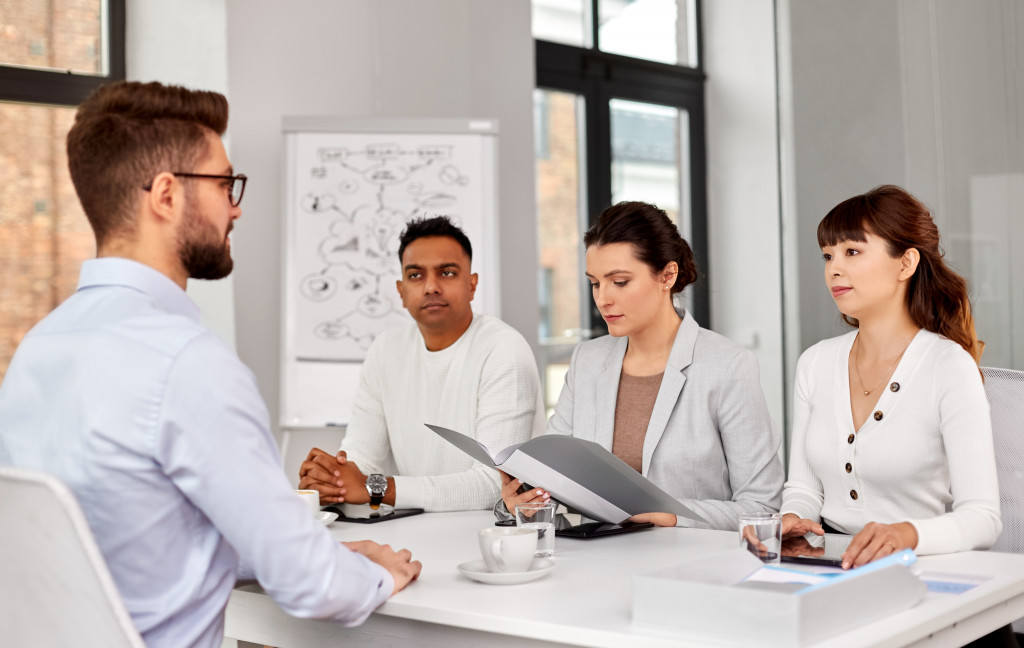 4. Create a plan for the hiring process
Having a systematic flow when finding prospective employees will make the hiring process much more manageable. The most common method is dividing the process into stages or phases and narrowing down candidates as it progresses to each level. Not only will this make the decision-making process more accessible, but it will be less confusing for both the hirers and the hirees. Each stage usually consists of different elements needed in the actual job position. The usual phases include a written exam, an interview, and a simulation.
Before you do an interview, you should have your possible hires take online pre-employment skills testing to know what knowledge the person has for the positing they are applying for.
5. Choose the right set of people who will hire/agency
In the hiring process, many people are involved in choosing suitable candidates. Because of this, it is your job as business owners to select the right ones that can perform this task well. Remember that their decision affects the future state of the business. The agency or interviewers should have the same mind and vision as you do. To ensure that everyone is on the same page, you can hold numerous meetings before hiring starts.
6. Make sure to do a background check
It is your job to know what your company deserves when hiring staff. It is also essential to administer a background check on potential hires, especially for jobs that entail managing delicate information or monetary transactions. Employers should check criminal history, employment history, and any other relevant information before hiring candidates.
Background checks can take a substantial amount of time. One method of facilitating this process is to use the assistance to check a potential hire's criminal history in less than an hour. 
7. Hire the Right Candidates
When hiring possible employees, make sure they have the skills and personalities that best suit your company or business. You have to be sure that your potential hire possesses the relevant skillset for the position, guaranteeing that you select the most fitted applicant to help you obtain your business objectives.
As a business owner, you should be able to ask valid questions while interviewing a potential hire. This is an excellent way to hire employees who have the right set of skills and the expertise to put those skills to use successfully. You want someone who has the experience and has a good track record of accomplishment.
To improve your business, hiring employees is one of the most important decisions you can make. It would be best if you were strict in making such decisions to avoid problems in the future.
Now that you know a thing or two about the process before actually hiring new staff for your business, it is time to start doing it. Planning takes time and effort, but it is an investment. Planning ensures that everything will be smooth sailing once you are doing the main thing.