Collaboration is one of the most important elements of having a productive and efficient team. Most business owners even claim this to be the key to the success of their companies. Both are true. Workplace collaboration is essential for any team or company to function. The competition is getting tighter every day, and you simply can't afford to have employees that have chaotic work relationships and communication.
Working together towards a common business goal can lead not better work quality and increased employee satisfaction. And if you have an effective team, making your customers satisfied and happy is surely feasible. Find out how you can improve the collaboration of your company's departments or teams in this guide.
Share and communicate goals
One simple way to bringing people together is by giving them a good reason to. Share what your company goals are and make them understand the importance. Compelling and meaningful goals can make your employees more passionate and motivate to their work. You can also discuss specific goals for each team or department and check on them regularly. Doing so can keep your team members productive and reduce delays and internal conflicts.
To ensure your team is working towards the goals, you can conduct morning huddles daily or weekly. This is also a great time for everyone to share their thoughts about the current projects and recognize any concerns regarding work.
Create transparency within teams
Creating transparency at work is the next thing you should work on. Transparency is about communicating honestly and openly with everyone in your team. To create a transparent culture in your workplace, provide supportive honesty to your people to make them feel safe and confident about giving and receiving feedback. You should also share any work-related results with your team, from the wins, challenges, to losses. Resist the temptation to sugarcoat bad results—it doesn't increase unity or trust in your team.
Master essential collaboration skills
Collaboration isn't just about working together to finish a project, but also about working towards a common goal. That can't possibly happen if a member of your team is not on the same page in terms of skills. One important aspect of good collaboration is open-mindedness, which you can foster by encouraging acceptance of new and creative ideas.
There's long-term thinking that is particularly crucial for understanding a project's scope and creating meaningful team contributions. Other important collaboration skills you should foster include effective communication, adaptability, active listening, conflict resolution, respect diversity, and debate, and knowledge-sharing.
Use an online collaboration tool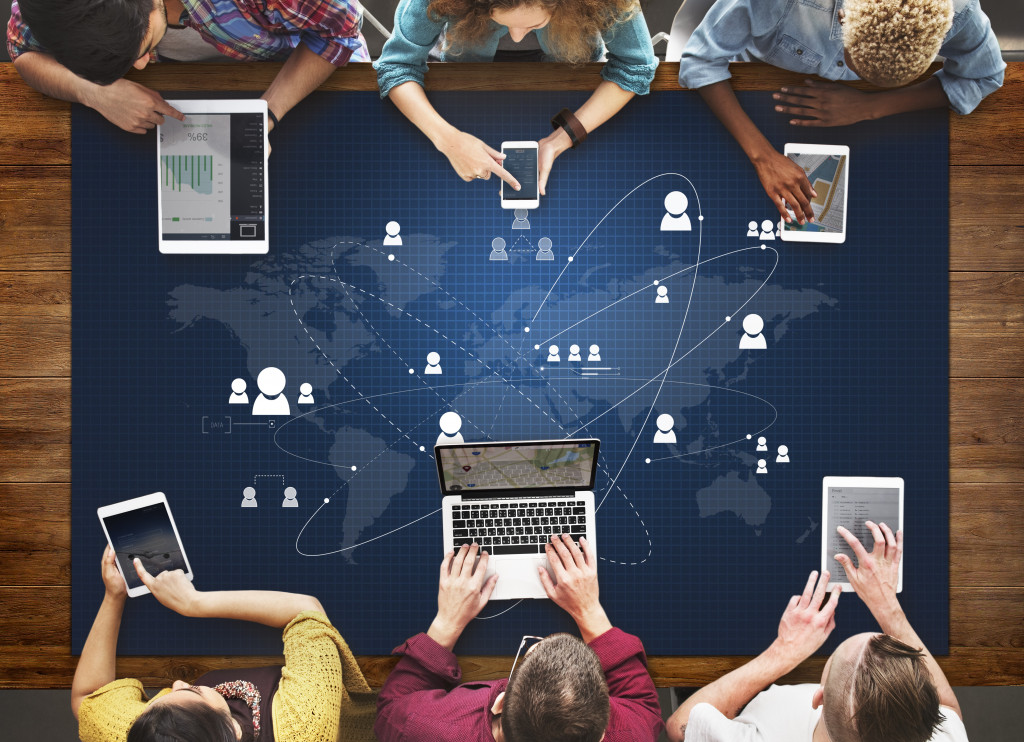 Collaboration tools are gradually changing the way most businesses or workplaces function. With the amazing modern features they offer, there's no denying that it can bring great convenience to any company. For instance, there are collaboration solutions such as an enterprise cloud file server, where your team can save, backup, and share files seamlessly.
There are also ones that offer real-time visibility for users. You can host online meetings, create secure live chats, and have a centralized hub for your work calendars and announcements. Collaboration systems are perfect if you want to save time, have better organization, improve project management, and strengthen team relationships.
Offer rewards and positivity
This trick is helpful for letting your employees know the benefits of working together. Recognize the hard work and perseverance of your dedicated team members by giving them well-deserved rewards when they achieve a milestone at work. You can also opt for team rewards to encourage future collaborations.
In addition to that, it's also necessary to provide your team members with constructive criticism while still recognizing their effort. Be positive when giving your feedback to promote good peer-to-peer communication and improve collaborative efforts.
Host team-building events
Developing collaborative work does not only happen inside the office. You also need to get out of that professional environment and spend time on fun team-building events. This gives your team members a fun and unique way to know each other personally and share their mutual interests. At the same time, you're giving them the opportunity to solidify their relationships as workmates and teammates. Not budget for an offsite team-building event? Start with team dinners or lunches!
Workplace collaboration is undeniably an ideal way to reduce individual pressure and increase learning opportunities for your people. Keep in mind though that the journey towards better collaboration isn't a straight and smooth path. You also need to overcome challenges and resistance such as strong senses of individuality in your team and traditional workplace practices. Include our tips in your overall team collaboration strategy for a smoother process.