Happy employees are productive employees. It's a simple equation, but one that more and more businesses are starting to realize. In order to keep your employees happy, you need to provide a workplace that is conducive to productivity. That means creating an environment where your employees feel comfortable and valued. Here are some ways to do just that.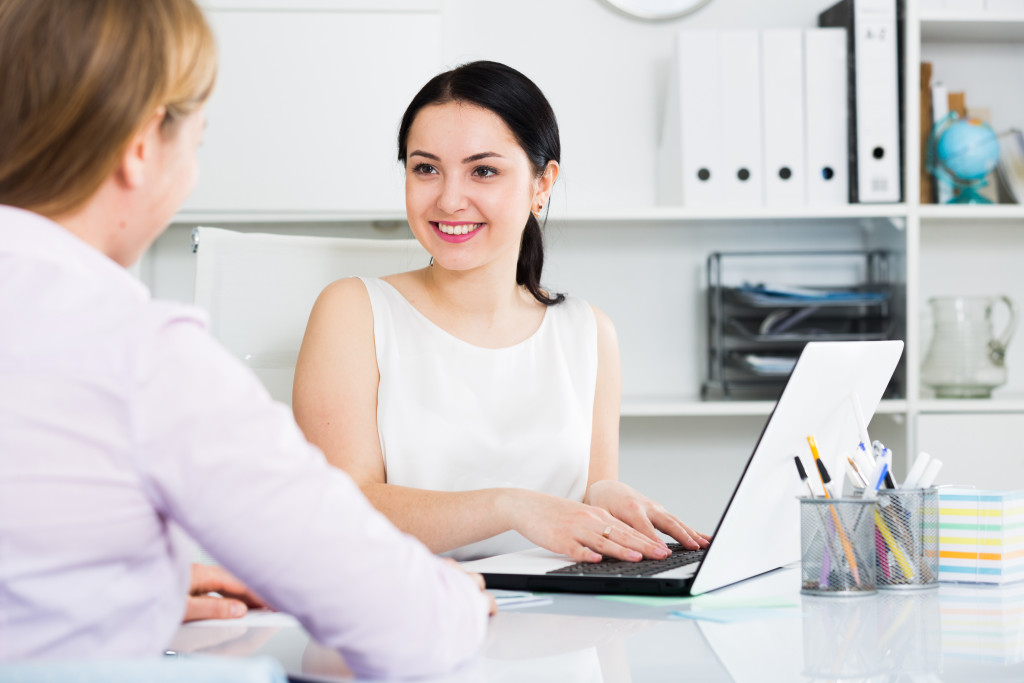 1. Provide a comfortable work environment
Having the right equipment is vital to keeping employees happy. It all depends on what they do. If your employees need computers, make sure that there are enough for everyone and that you have updated your software recently. You should also think about ergonomics; make sure that the chair fits their body (and vice versa), and provide a footrest if the chairs don't have them already. Furniture and cubicles should be comfortable and fit in with the style of the office, but not so much that it is distracting.
2. Always keep your employees in the loop
It is important to keep your employees informed about what is happening in the company. An open workflow is conducive to happiness, just like working in an open workspace. If the company is doing well, it's good to tell your employees that. Even better, try having lunch or a start-of-day meeting every once in a while where you can update them on all the goings-on around the office.
3. Be fair in all dealings with employees, including pay, benefits, and promotions
While it can be difficult to pay your employees fairly, if you want to keep them happy, they should feel like they are compensated enough. They should also understand why there is a difference in salaries (i.e., the employee works in sales and their coworker does web design). It is also important to have a clear system in place for promotions and raises. It feels good just knowing that a promotion might be coming soon, but the process should be concrete within your company. Additionally, these payouts and financial benefits must be given when they are due. You can organize for a payroll company to do this job for you.
4. Offer flexible hours/personal time
Some companies have a strict working schedule, and other employees can come to the office late or leave early as long as work gets done. For those that cannot do this, allow your employees to adjust their schedules accordingly. As long as certain deadlines are met and projects get finished, it should be fine. It is also important for managers to be flexible with their employees, for example, if they are not feeling well.
5. Create an open-door policy for employees to talk about their concerns or ideas
This is one of the best ways to show that you care about your employees. An open-door policy allows your employees to confide with you about their concerns in the workplace, which builds trust in the professional relationship. You can also provide an online employee satisfaction survey system where anonymous ideas are posted, read, and responded to by managers. Even if nothing changes immediately after hearing their concerns, it shows your employees that you are thinking about them even when they aren't in the office.
6. Offer training and professional development opportunities
People like to learn, especially if their job is interesting or fulfilling. On-the-job learning sessions should be encouraged; you can even create an internal wiki for information on different tools used in the office. If your employees are already highly knowledgeable about the company's products, you can offer courses or certifications that support your product. You can then give them more responsibility if they want after completing the course successfully.
7. Take care of your employees on an individual basis
If someone has a birthday coming up, don't forget about their special day! Send out cards with some nice words in them or even a small gift. It's important for their happiness to know that they are cared about outside of work, too. If you can do something nice with your whole team, like take them out to lunch on the Friday before the long weekend, all of your employees will feel appreciated and happy when they go home.
8. Treat everyone with respect no matter what position they hold within the company
Lastly and most importantly, keep in mind that everyone who works for your company should feel respected and valued. It doesn't matter if they are the CEO or a new intern; you should all work as a team to achieve success.
Keeping your employees happy in the workplace is important to ensure that they are engaged and motivated throughout their workday. These eight tips will help you make sure each of your employees feels valued, respected, and appreciated for what they do. We hope our list has inspired you to implement some new changes at your company today!