There are businesses you just couldn't resist starting. That's because of innovative ideas you have in mind and you're ready for them to materialize. Coffee shops can be one of those businesses.
Establishing a coffee shop requires the ideation stages to be rich in creative visions. From store planning to menu, they always undergo crucial brainstorming. It has to because a coffee shop needs to stand out among the rest. In 2020, there are over 31,000 coffee shops in the U.S. already according to statistics. The competition is really tight, especially in small neighborhoods.
So how can you be the best among the rest? Which elements of this business should you improve to appeal more to customers? Here are some of those that you can apply to your coffee shop:
Staff
Coffee shop beverages could be one of the most personalized menu items people get every day. It would greatly help if the people who create them could make the experience personalized too. Baristas nowadays are expected to have personal connections with their customers. Some clients even feel glad if baristas know their names. Some of them even have a favorite barista because of this aspect.
So if you want a warm reception from customers, work on this element. You have to have your baristas trained to become more appropriately sociable. Not just that, do the same for other staff in your coffee shop. Ask them to be more fond of remembering customers' names. Make a barista aim to be a client's favorite in the whole town. Let your coffee shop be known as a place with the friendliest staff. This can give customers a feeling of belongingness and importance. That's what will make them come back to your coffee shop more often.
Interior design
Your place may have the best coffee in town. But if your coffee shop doesn't look appealing, it may not attract younger customers. One of the things young people are so into right now is social media. They'd always tend to post pictures and "check-in" to places they're currently at. If your coffee shop is a social media darling, you can get free promotion. What you have to do is, of course, make your place photogenic.
You can do this by improving the interior design of your coffee shop. Get aesthetically pleasing sets of furniture. Get your walls designed in such a way that they would look appealing on social media. Invest in high-quality concrete resurfacing products to make your floor look classy and attractive. Check out which designs are trending. You can also just seek help from an interior designer to execute your ideas more easily. Make your customers feel cozy inside your coffee shop.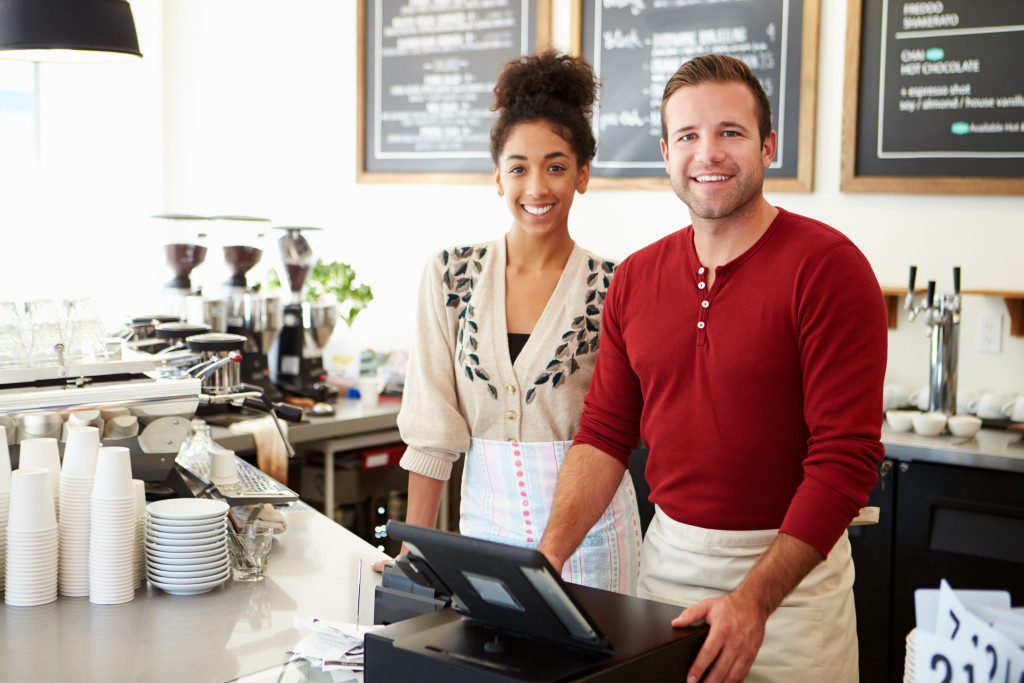 Music
There's no better way to end a tiring day than to spend it in a coffee shop while hearing relaxing music. People would spend more time in your coffee shop if they'd hear soothing sounds while enjoying their beverage. A study suggests that music can evoke moods and emotions. If you're able to queue songs on a playlist that can do this magic, then do so. Choose instrumentals that can make your customers feel serene. Maybe some smooth jazz classics or Bossa nova tracks. You can also have a day of playing top radio songs to appeal to Gen Zs and young millennials. The music you play should match the greatness of the beverages you serve. You'd surely have regular customers who are music lovers too.
Pastries
You may be battling with larger coffee shop chains in your neighborhood. Try winning people's taste buds. Do this by offering pastries that your competitions don't have. But of course, have the classic ones still. The exclusive pastries would make customers come back for more. That's going to be the case especially if they're scrumptious. Find interesting recipes that you can execute. You can also look for a supplier that can do these pastries. You can explore unknown pastries from around the world. Make some of these and share the gastric experience with your patrons.
Perks
A lot of gimmicks were already pulled-off by different coffee shop chains. There are gift cards, sticker collectibles, rewards, and more. Why not do something that is exclusively yours? Offer perks to your customers that are easier to obtain. Say a gift card for their 100th coffee or a small present for every hundredth visit. You can also give your customers rewards by supporting your cause.
For example, you can start a recycling drive in your coffee shop. Reward them for their hundredth time of bringing a mug instead of having their beverage on a paper cup. Give gifts to people who can drop off plastic bottles in your recycling box. Have a toy donation initiative where people can give old toys to a new owner or something like that. There are many rewards program ideas that you can come up with. Just make sure they're somehow unique from anybody else.
There may be five coffee shops within the ten-block range in your area. But you can still stand out if your business is exquisitely unique from others. Give these tips a try to make your coffee shop the best in town.