Smiling is a universally understood language. No matter where you're from, there's nothing as heartwarming as greeting someone with a smile. People want to smile confidently. Naturally, we show our teeth when we smile. However, that doesn't mean that everyone will have a healthy set of teeth.
Our teeth help chew food for our daily sustenance. This means that food debris and matter can get stuck in between our teeth, which can lead to the buildup of plaque and other types of dental health problems.
Normally, people practice good dental hygiene by brushing their teeth, flossing, and going to the dentist now and then. But aside from the usual teeth cleaning, many professional orthodontists and trained dentists will also do more complex dental operations. Although many individuals will go to the dentist for toothaches and extractions, some procedures are geared towards better cosmetics.
Many of these medical operations and procedures that are catered to a better smile or set of teeth are called cosmetic dentistry. Not only will this improve the overall appearance of your teeth and your smile, but this can drastically affect the color, shape, alignment, and overall appearance of your smile.
So what are some essential procedures that can help with getting a better smile? What should you get for your situation? We'll be answering some important questions about dentistry and what you can do to get a better smile.
What Should You Get?
But right before we discuss what are some procedures that can help with your smile, we'll need to identify what you should get for your situation. It's vital to keep in mind that there are two types of dental specialties. These two specialties will have a primary focus on aesthetics in dentistry:
Prosthodontics – This is more focused on dental prostheses. This usually involves making modifications to the teeth with the use of synthetic materials.
As you can see, each of these practices will have a different approach in making modifications to your teeth and your mouth. Since our mouth and teeth alignment is unique in its way, it's best that you first consult a professional right before making any final decisions.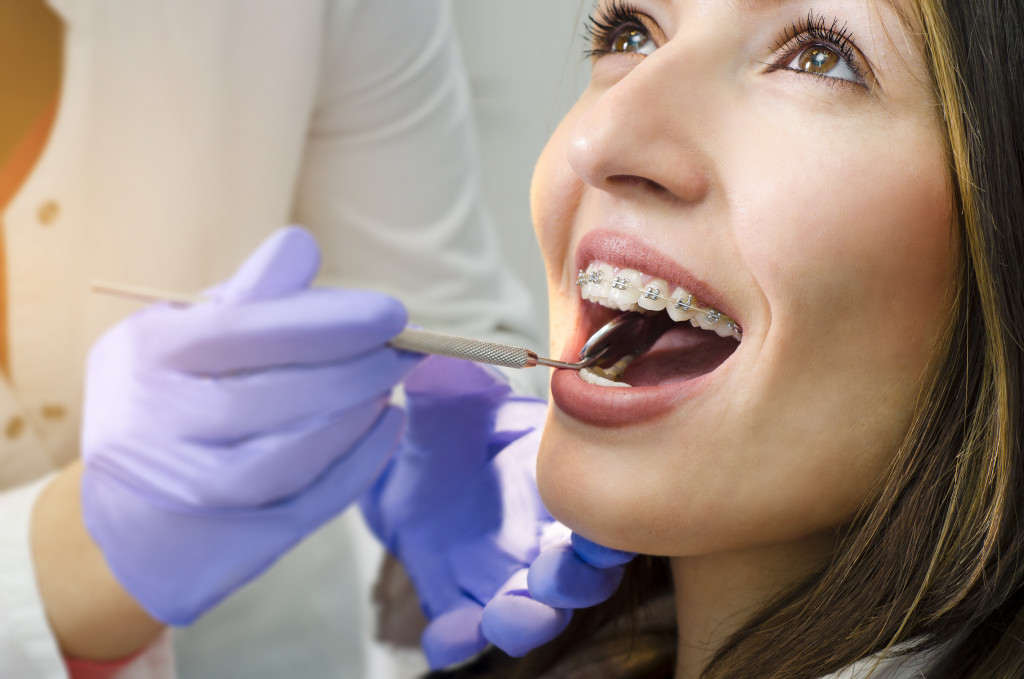 Dental Prostheses
First and foremost, one of the most important innovations in the world of dentistry in the past few years comes in the form of dental prostheses. Fortunately, many technological innovations have made it easier for dental professionals to perform dental operations that can ensure the best results.
Innovations such as 3D printing in dentistry are known for improving your experience. When you're still in the phase of choosing the dental procedure you should go for, you'll need to ensure that the dentists you're meeting will have all the necessary state-of-the-art equipment.
Tooth Whitening Procedures
Another important dental procedure that's known for being one of the most prevalent ways of having aesthetically pleasing teeth is tooth whitening. In the past few years, teeth whitening services is one of the most popular ways of having a better smile. There are a variety of products that can have a significant impact on our teeth. For instance, smoking cigarettes can cause long-term stains on your teeth. Many types of drinks and food have pigmentations that can alter tooth color.
In this procedure, you should expect the following:
Your doctor might use chairside bleaching. This is when bleach is applied to your teeth. Normally, this will take just one appointment to finish.

Other dentists will have DIY kits that can help you do the bleaching process at home.

Your dentist will prescribe stain-removal toothpaste. This is especially effective in removing stains caused by food and drinks.
But it's still crucial to keep in mind that whitening products for your teeth shouldn't be used with proper professional supervision. Following instructions is paramount to better dental health.

As you can see, there are many procedures and medical treatments that can help get the best results for a better smile. But even though you're gunning for an aesthetically pleasing smile, you'll also need to consider the fact that many of these procedures can potentially change your facial structure and how your teeth function.
Ultimately, you'll need to ensure that your teeth are in a functional and healthy condition. Like many other medical procedures and treatments that will require extensive care, you'll need to follow your dentist and doctor's instructions for the best results.
Still, it's crucial to place some time and effort in planning out what you want. Some treatments will require time for preparation. Whatever your choice may be, making a few dental changes can boost your confidence and achieve that perfect smile that you've been striving for.