Sports can help you achieve a great body and improve your well-being. When you're young with a healthy body, there are numerous sports activities you can try to get in shape and become active. How about for older people; what activities can they do that has a lesser physical impact on their body? The answer is playing the game of cornhole.
Finding a cornhole set is now easier when you go online. A broad range of vinyl wraps for cornhole boards will definitely amuse you. More seniors love playing cornhole because the activity doesn't require you to run; it won't get you tired quickly. All you in is an unobstructed, free space to place the two boards, and you're all set to play the game.
How the Cornhole Game Started
Because it's absurdly fun to play, more people became interested in getting to know the origin of this trivial yet straightforward game. Some say that cornhole game started in Cincinnati. Others claim that cornhole originated in Kentucky. There's speculation that Native Americans in Illinois popularized this physical activity in which natives stuffed dried animals' bladders with corn to play the game by tossing them.
To tell you honestly, nobody can tell the exact location or origin; it remains a mystery. But knowing where the game originates is less significant now than what this engaging activity can bring to a lot of enthusiasts. Farmers in Cincinnati, with the help of cabinet makers, have played a vital role in improving the set for this trivial game. They collected burlap bags filled with corn. Cabinet makers modeled wooden boxes with a hole to make the exciting cornhole game possible.
Why Cornhole Became So Popular
Cornhole seems like an easy, simple game. But it requires endurance, mental skill, and techniques to win the game. The game lasts several rounds; each player taking turns to toss the bags until the winning team acquires the required score — 21 points. In every game, it's crucial to have rules to achieve a fair game. Here's what you should know:
Placing the bag on the boards gives you 1 point.
Making the bag pass through the board hole gives you 3 points.
If there's a bag near the board hole and the bag that you tossed knocked that bag into the hole, you get 3 points.
Take note that it's a foul play when your foot reaches the boundary line in front of the board before tossing the bag. You'll be given another chance to throw the bag to acquire points.
Cornhole is now recognized worldwide. In fact, professional cornhole players can find a home on ESPN in sports leagues.
Modern Cornhole Sets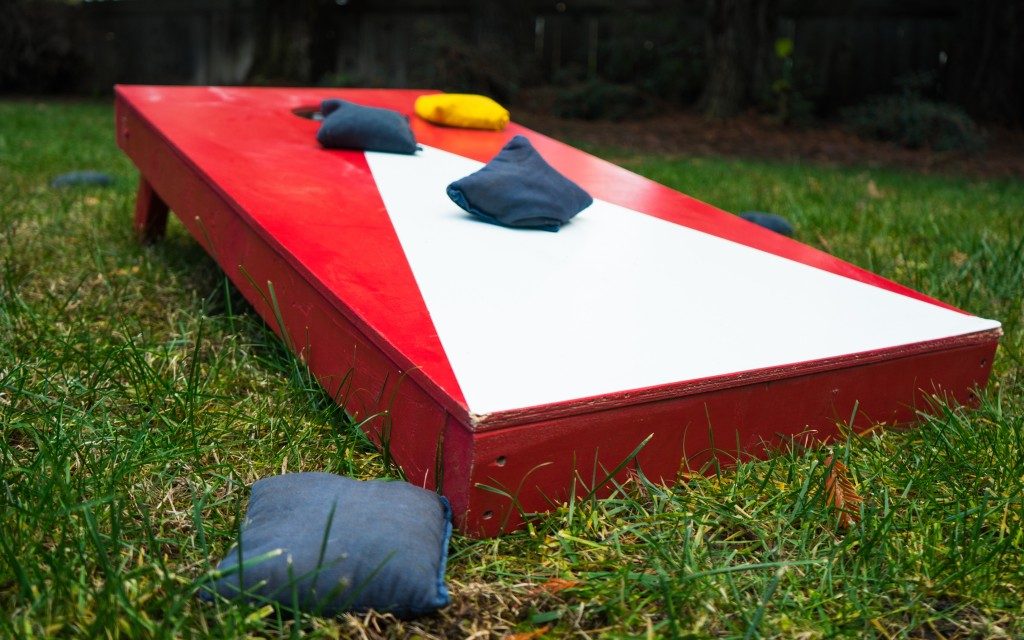 From simple backyard cookouts to professional leagues, cornhole exudes numerous significant elements. Playing it indoors or outdoors, seeing distinct cornhole boards adds up to a more exciting gaming experience.
When you visit game stores or shop online, there's a wide range of modern cornhole sets to choose from, with various dimensions and styles. A wooden box with a hole seems dull without decoration. That said, modern cornhole boards come in diverse finishes to spice up the gaming experience, such as the following:
To have stunning graphics on the cornhole board, vinyl wraps are a popular choice, giving you an edge to create any design you can imagine. Choose the company that can offer you appealing cornhole wraps that retain a consistent playing surface.