There's something about uniforms that can elevate how the public sees a business or company.
They exude professionalism (if the employees are careful about the aesthetic image they present, they must be just as meticulous about the quality of their products or services) and financial health (if a company can fund well-made uniforms for its employees, it must be in good financial standing). Uniforms also inspire trust among customers. Studies reveal that businesses and consumers feel reassured and are more comfortable doing business with employees who wear uniforms. Besides professionalism, the studies cite the following reasons:
Uniforms offer identification of the company the employees (especially service providers) work for.
Service providers in uniforms inspire trust.
Uniforms help reinforce branding.
It reassures customers when they recognize the logo or brand name emblazoned on the employee's clothing.
Designing corporate uniforms, therefore, needs a lot of careful thought and planning. Uniform designs have an impact on the image and branding of any business, company, or organization. Even in New Zealand — where people are known for their preference for casual clothing, and shorts with knee socks are an acceptable corporate outfit — corporate uniforms are given a degree of respect and appreciation just like everywhere else. You'll want to invest time and talent into creating them.
The Need for Comfort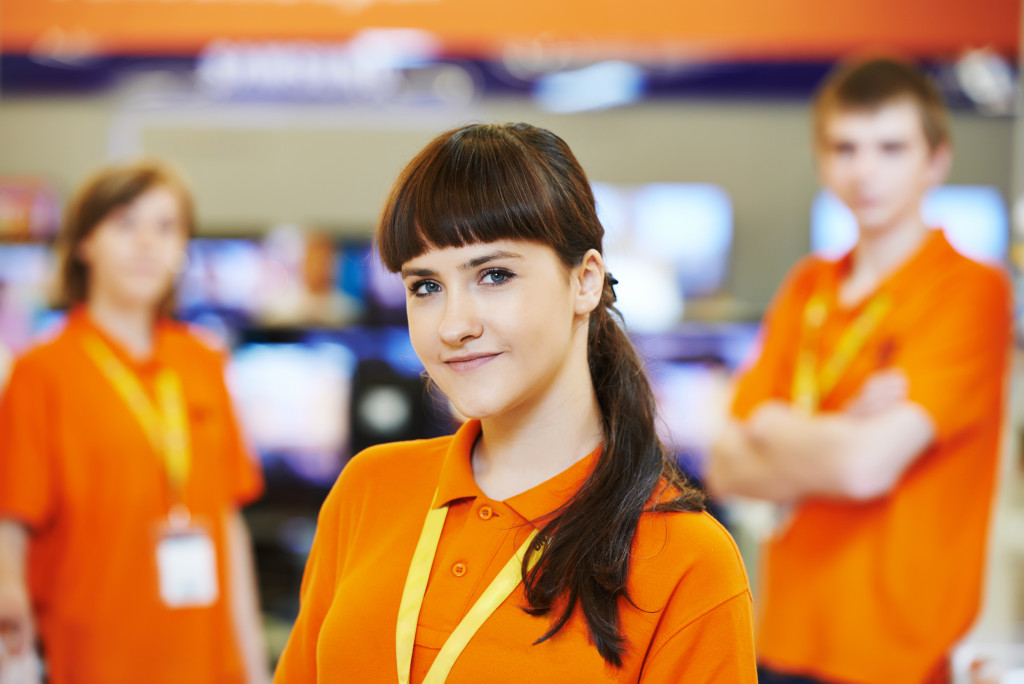 There is, however, another aspect that also needs attention when you design and produce official corporate clothing: your employees' comfort.
It's counterproductive if your employees are unable to do their job properly because their everyday work uniform restricts their range of movement or causes them great discomfort. Image is important, but it shouldn't be at the expense of productivity.
How can you ensure your employees comfort as well as accomplish your branding goals using uniforms? Below are some excellent ideas:
Use collared polo shirts – These make the best company uniforms because they offer the comfort of an ordinary t-shirt but look a touch more "corporate" and put-together than an ordinary cotton tee. With ample styling, polo can even pass for semi-formal corporate wear.
Choose high-quality clothing – Uniforms made with 100% cotton fabric can be more expensive than a 20% cotton blend, but paying more for the company's share of the cost is worth it if the employees will be happy to wear them.
Create designs on basic pieces of clothing – The less your employees feel like they're putting on a uniform, the better. Not that you should only ever use t-shirts and polo shirts, but choose uniforms that your employees can use comfortably on a daily basis. For instance, if you run a health clinic or veterinary practice, classic scrubs in plain white (or any colour often associated with your practice) will do.
Keep the prints small but legible – Huge prints that take up the entire front or back of a t-shirt uses up too much ink and might cost you more. T-shirts with large prints also tend to be stiff, uncomfortable, and a lot less breathable than shirts with smaller prints.
Create branded accessories – An alternative to corporate uniforms is to produce branded items like aprons, caps, lanyards, and bags — things that aren't exactly uniforms but can serve their purpose. Employees in a cafe might prefer, for example, to wear their own clothes under an apron that bears the cafe's name and logo. They can express their individual styles and save the money they would otherwise have to spend for a full set of uniforms.
Hopefully, these examples can spark other ideas for corporate uniforms that your employees will find comfortable and be proud to wear.