First impressions are essential, and that extends to businesses as well. If your business has poor curb appeal, it could be turning away potential customers without you even realizing it. Curb appeal is the first thing people see when they pull up to your business, so it's essential to make sure it's presentable. Here are some tips on how to improve your business's curb appeal.
Start with the front door.
The first impression of your business starts in front of your building. A coat of paint is a great way to make a statement and show how much pride you take in the appearance of your storefront space. Choose a color that makes your storefront stand out from the crowd while being sleek and modern.
Embrace an eye-catching bold color to reflect the same enthusiasm inside your business for customers. High-quality paint with good longevity will also save you money in the long run, making sure you're proud of the front door for years to come.
Add covered walkways and canopies.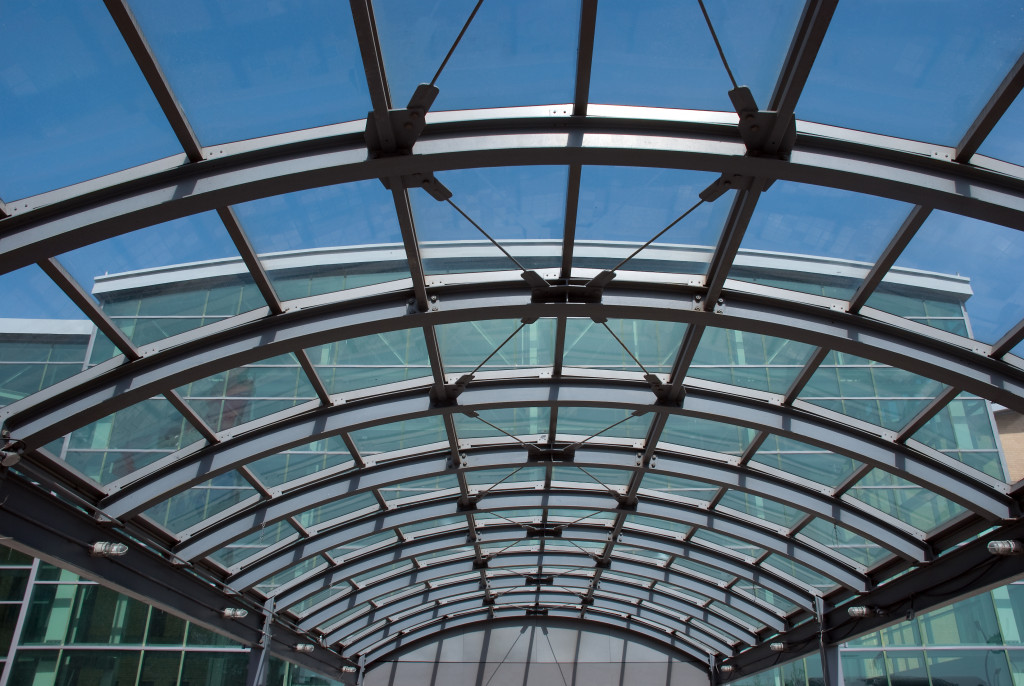 Your business's exterior should be inviting and easy to access. Investing in a few covered walkways and canopies will help keep customers dry in inclement weather while adding charm to your storefront. Canopies come in many colors and materials and can also be customized with your business's logo, making it easier for customers to find you.
Make sure your windows are clean.
As a business owner, ensuring your windows are clean is essential in presenting the right curb appeal. People make quick judgments based on their first impressions, so having clean windows is necessary to ensure those first impressions are positive. A clean window can brighten the area, casting natural light into a space and enabling passers-by to see inside.
It also shows you take pride in the appearance of your business and that it is well taken care of – as all tidy establishments should be! Regular window cleaning will significantly improve your business's overall visual appeal and help leave a lasting impression on potential customers.
Add some greenery.
Adding plants to a business space is an easy and affordable way to make a strong first impression on customers. After all, greenery adds visual interest, making the area look polished and lively. Options range from small shrubs to vibrant flower beds, each helping create a serene and welcoming atmosphere for customer visits.
Incorporating plants can also help bring in more natural light and decrease noise levels, allowing customers and employees an improved work or shopping experience. Additionally, proper landscaping can boost customer confidence in your business by showcasing the level of care you take with the local environment.
Get rid of any clutter.
Make sure you don't overlook the importance of an immaculate outside appearance. Making your business looks sharp and tidy will give potential customers a great first impression. Take the time to clear away any clutter around your property that can detract from its aesthetic, such as newspapers or flyers.
This is a simple but often overlooked step in maintaining a professional and presentable look that showcases your business in the best possible way. Removing these items will instantly help improve curb appeal and show customers you take care and pride in how your business looks.
Give your business a good cleaning.
A clean and well-maintained exterior helps people form a good first impression of your business, which sets the stage for further interactions. Make sure that the free area in front of your establishment is clean and litter-free, to give off a more inviting and professional vibe. Don't forget to also pressure wash walls, windows, signs, walkways, and parking lots.
Clear away any cobwebs or stains, both inside and outside the building, to keep up appearances. Lastly, don't forget about outdoor furniture – get rid of dust and dirt buildup by hosing it down or using a detergent solution with warm water. Give your business the TLC it needs, as customers definitely notice these details.
Think about lighting.
Good lighting is essential for any business's image, especially for its curb appeal. Whether you want to add new light fixtures or simply replace a few burned-out bulbs, the difference will be noticeable. Businesses must consider how their presence affects customers, and with improved lighting, the ambiance of their property can easily be enhanced.
When people visit a business, they instantly make an impression based on appearance and design – good lighting will give a message that your business is reliable and well-maintained. Take some time to assess the current state of your exterior lighting and consider if it needs an upgrade. Making these changes can improve the overall impression of your business and leave a lasting first impression on your clients and customers.
Making your business more presentable can be as simple as starting with the front door and working your way out. A fresh coat of paint, some well-placed plants, and a good cleaning can make all the difference. And don't forget about lighting – first impressions are everything, so make sure you're putting your best foot forward!